KEY LARGO — Residents may soon not recognize a portion of property at mile marker 97 that extends from U.S. 1 to the Atlantic Ocean. The Monroe County Planning Commission last week approved development of the almost 4-acre plot located at 97617 Overseas Highway and East First and Second streets. It's slated for a new resort that includes the existing docking facilities there as well as the Island Grill at Mandalay restaurant. Specifics of the development spell out 22 vacation rentals and three motel suites fit into two major buildings on the property. Along with that will be "significant amenities," according to the major conditional use permit request initially submitted to the county in May.
"The units [vacation rentals and motel suites] are proposed to be located in two structures," the request reads. "One structure [is] containing 18 units and being four stories in height and a second structure [is] containing a total of seven units."
Monroe County Planning Director Mayte Santamaria said the planning commission on Wednesday, Oct. 26, discussed the request, clarified some specifics such as parking and building heights, and then approved the development with conditions outlined in the staff report.  The conditions include providing exact clarifications of the size of the land and the restaurant, indicating all 111 required parking space sizes and creating a stormwater management plan, among other items. Aside from the two buildings housing the vacation rentals and motel suites, the destination resort will include reception offices, a guest building, exercise facilities, an oceanside swimming pool and a sand beach.
"In addition to the buffer yards required, significant vegetation is proposed with the accent on native and non-watering plants,"
the request also reads. The vacant area of land there was previously developed before being razed in 2005. Parts of East First and Second streets were also abandoned by the county in 2006 and 2007.
"This project is a redevelopment and is, in general, replacing what was on the site previously," the request reads. The property is listed under Key Marina Development LLC, which includes majority owner Mark Gerenger of Celebration, Fla. The development request received an OK from the Monroe County Development Review Committee earlier this year.
A timetable for construction was not known at press time. Key Largo has been popular with resort developers as of late. In December, developer Jerry Johnson, ex-owner of Cheeca Lodge & Spa, bought the Point of View RV Resort at mile marker 99, bayside, for $11.2 million. A planned 138-room resort will offer a spa and multiple restaurants and pools. Also, Playa Largo Resort & Spa, located at mile marker 97.4, bayside, opened with 167 guest rooms and 10 bungalows. It's part of the Marriott chain's Autograph Collection of hotels.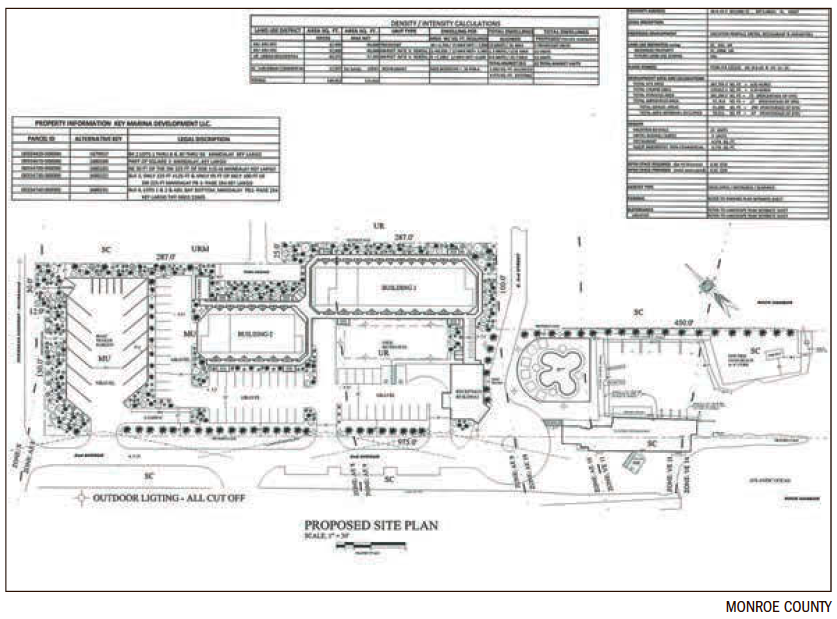 A site plan of the mile marker 97.6 property development submitted to Monroe County. It was approved last week, with conditions, by the Planning Commission.
bbowden@keysnews.com
ctwine@keysnews.com